English |
German
// Follow our project page on Facebook: https://www.facebook.com/MASW2020/
—
* UPDATE * Recording sessions are taking place 26-29 July 2021 in Mannheim!
—
Project Description
In 2020, renowned percussion ensemble Mannheimer Schlagwerk will celebrate its 25th anniversary. To mark the occasion, the group's artistic director, composer Dennis Kuhn, developed a bold idea: To invite three unique artists from outside the conventional classical music scene to write pieces for the ensemble and to perform them during their anniversary concerts in May – followed by recording sessions and a beautifully designed Deluxe CD on established imprint Solaire Records, to be released end of the year.
To make this project happen, we need your support. As a backer, you can select from a wide range of benefits, from copies of the finished album up to executive producer credits in the CD booklet and even attending the recording sessions as a spectator.
The album would feature exclusive new works by Stephan Thelen, Nik Bärtsch, Markus Reuter, and Dennis Kuhn. All of them have a distinct personal voice. And yet they have all worked together before and share many overlaps in their outreach.
Although their styles are distinct, Kuhn came up with a fascinating and yet simple proposition: All pieces are to feature the basic mallet quartet of two marimbas and two vibraphones. Each composer is free to add to this line-up. But the shared foundation will ensure that the album will not sound like a random collection of percussion pieces, but like a fully fledged, coherent album.
For the finished product, we already have the support of Berlin-based label Solaire. Each of their releases is a luxurious combination of highest audio quality, lavish packaging and expansive liner notes with exclusive photography, interviews, essays and insights from the artists.
Dirk & Tobias Fischer from Solaire Records state: "In 1971, Steve Reich toured the USA with Drumming. The genius of that piece wasn't just the music. It was also the format – small enough to hit the road and yet versatile enough to allow for many different sonic possibilities. Audiences at the time were completely blown away and we feel that this project will have a similar effect on listeners. And this, precisely because you can be sure that none of the composers involved will merely copy what Reich has done."
—
The Project is funded!
—
Who are they? An overview of the artists involved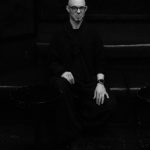 Nik Bärtsch
The Swiss pianist, composer and ECM recording artist is mostly associated with his zen-funk quartet RONIN. But over the years, Bärtsch has also made a name for himself all across the globe as a solo improviser, with his second band Mobile as well as a composer.
Nik says: "I am interested in the energetic, kinetic, meditative and social potential of the repetition: the phenomena that we call groove. The interesting complexity happens in the depth of the composition, not on the surface."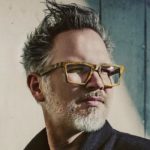 Markus Reuter
After working in rock, electronica and influential bandconstellations (Pat Mastelotto, Tony Levin, Adrian Belew, Devin Townsend) for two decades, Reuter developed a process allowing for the creation of equally complex and accessible works in an expanded tonal environment. His biggest pieces include the orchestral fantasy "Todmorden 513" and his string quartet "Heartland".
Markus says: "I did work with Dennis before on "Sun Trance". But that piece had more of a rock instrumentation and did not include marimbas. So the mallet quartet will be very different. It certainly won't be too much in the direction of minimal music – rather something melodic, and I plan to use special techniques to bring out more legato qualities. Also, there will be two keyboards as additional instrumentation."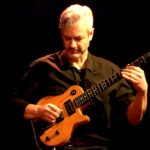 Stephan Thelen
Thelen studied classical guitar, but quickly expanded his vision in Robert Fripp's (King Crimson) famous Guitar Craft seminars. Since 2004 he has been concentrating more on compositions for modern classical chamber music next to his minimal-progressive band Sonar (and a collaboration with David Torn). Thelen is also a mathematician, which may be an underlying factor for his intricately rhythmisised pieces.
Stephan says: "I got to meet Dennis and the Mannheimer Schlagwerk in 2016 through Facebook and Markus Reuter. I ended up writing two pieces for them. The mallet quartet is absolutely ideal for me in many respects. If only because my music has a strong (poly)rhythmical impetus."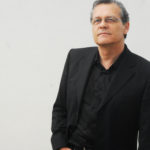 Dennis Kuhn
Kuhn already had a career as a timpanist and orchestral percussionist before setting up his own ensemble. With the founding of the Mannheimer Schlagwerk, he was able to freely explore complete musical freedom across genre borders. For 25 years, the ensemble has been a major force on the new music scene, pioneering and curating works for various percussion constellations. His vocabulary knows no borders, transcending conventions and stylistic limitations.
Dennis says: "This will not be your average percussion recording. All composers have worked with each other before, but writing for a group like the Mannheimer Schlagwerk is still a fresh challenge for them. And, needless to say, getting Bärtsch, Thelen and Reuter together on one disc is sensational in its own right!"
CROWDFUNDING (by Cédric Theys)
How do we make this project happen?
"Crowdfunding" has had a bad name in the past year because it has become somewhat big business. What we're doing here is crowdfunding in what it was meant to be. It is necessary because today there are no more labels giving advances for musical projects of any scale. There is no one patron or philanthropist who will give to have works of art, especially non-mainstream, see the light of day. And this is a big project with many moving parts, lots of instruments and four composers.
What we're doing here is removing any middlemen. We are doing this 100% DIY with people volunteering to put in the hard work to make it happen. Where with most "Crowdfunding" sites, a percentage goes to the people who own the site, here close to all the money goes to the project. We still have to pay credit card fees and some transfer or conversion fees but those are kept as low as possible. And you will still have the opportunity to get some things in return for your generosity (see below).
We are using PayPal to collect the funds; it's a very secure way of doing it and the funds will go directly to the project with minimal service fees from PayPal, banks, etc. Please note that if your account is not verified you will have a maximum limit you can send (it varies per account) which will be lifted once you verify your account with PayPal (2-3 day process). If you have further questions/concerns, please write to me at info"at"solairerecords"dot"com.
The minimum goal is 15,000 EUR, which will cover the costs of recording, the equipment, flights or train rides and food and lodging while recording, design, graphics, liner notes and manufacturing of the album. Anything over that amount will allow us to promote the music adequately and pay the composers more.
Your support is greatly appreciated and invaluable. Without you, the music would certainly stay on a piece of paper tucked away somewhere, collecting dust.
So here are the options for your pledges:
download of the album (€10/$12)
signed CD of the album (€25/$30)
all of the above and your name in the "thank you" section (€110/$125)
all of the above and a 30 minutes Skype conversation with the composer of your choice (Nik Bartsch, Dennis Kuhn, Markus Reuter, Stephan Thelen) (€350/$390)
Executive Producer credit and all of the above (€1000/$1120)
VIP treatment for the 2 concerts in May 2020 (doesn't include travel costs and accomodation). Includes meal with composers and/or meet & greet and a signed CD of the album (€750/$840)
VIP treatment attending recording session (doesn"t include travel costs and accomodation) and a signed CD of the album (€750/$840)
all of the above plus a 1-page piece of music (for a musical instrument of your choice or a small ensemble with up to 3 instruments of your choice) written exclusively for you, printed/personalized/signed/framed, and our eternal gratitude. (€3000/$3355)
Exclusive options containing the music scores:
PDF-score(s) of a composer/piece of your choice (only Nik Bärtsch, Markus Reuter, Stephan Thelen) (€20/$22 each)
Printed and bound scores of all 4 compositions signed by all 4 composers (€100/$110)
The actual scores used during rehearsals and concerts signed by all 4 composers. Only 2 available! (€500/$550)

—
The Project is funded!
—

Thank you!